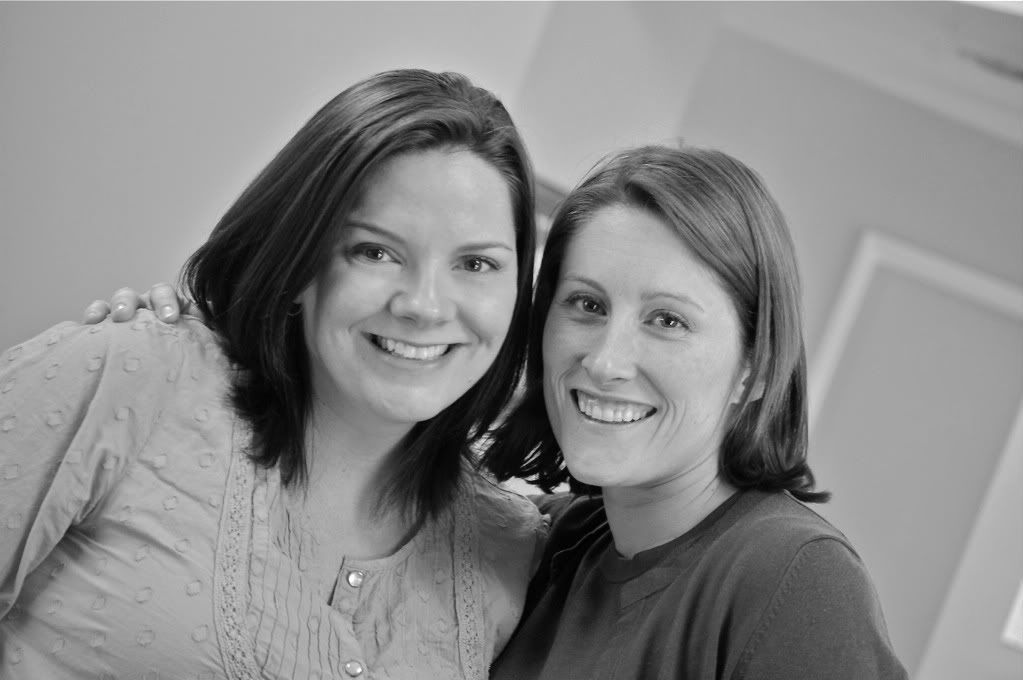 So yeah. This is a day late. So shoot me.
It's been a crazy week again and I must admit that I'm tired. Tired of what feels like non-stop rants and negativity on the internet. Tired of feeling like I'm pouring out my woes to everyone… Trust me, it's been rough… But not that rough. :-)
And there have been some really high points in the past week. I was lucky enough to host a "sprinkle" baby shower the day before we were called down to SD. I was so happy that I was able to get it all done in between trips because it was for a great friend up here in P-Town.
She's my neighbor, one of the first people I met here, a fellow entertainment industry alum and my sewing guru. She's awesome and I was so excited to throw her a party… without the kids… without husbands and WITH wine. And some great food! (If I do say so myself)
One of the things that was a SUPER big hit was the Tomato and Goat Cheese Tart that I made. It was great for a casual get together like this… easy to make and de-frickin'-licious.
The nice thing was that I could make most of it ahead of time and then right before everyone arrived (about 20 minutes or so) I threw it in the oven. It's a gorgeous, rustic appetizer and I definitely recommend it for your next party.
I must give props where they are due… this is not my recipe but The Barefoot Contessas. Of course. She plans some fabulous parties! 


Ingredients
1 package of puff pastry, defrosted
Good olive oil
4 cups thinly sliced yellow onions (about 2)
3 large garlic cloves, cut into thin slivers
Salt and pepper
3 tablespoons dry white wine (if you won't drink it, don't cook with it! )
2 teaspoons minced thyme leaves (I used dried thyme because I'm lazy and didn't want to walk outside and gather it from the garden)
4 tablespoons freshly grated parmesan cheese, plus 2 ounces shaved with a vegetable peeler
4 ounces of garlic-and-herb goat cheese
1 large tomato cut into 1/4 inch slices (make sure it is ripe!! I used an heirloom, made a difference)
Julienned basil leaves
Directions 


Unfold a sheet of puff pastry on a lightly floured surface. It will make three strips of dough, which I cut in half, making 6 pastries. Do this with the other sheet of puff pastry so you have 12 pastries. Cover two cookie sheets with parchment paper or a silpat (this does make a difference as the puff pastry will sweat and stick to the pan otherwise).  I turned the edges of the dough up and over, making a little lip, just in case there was anything that wanted to escape… Refrigerate until ready to use the dough.
Heat 3 tbsp of olive oil in a large skillet over medium to low heat and add the onions and the garlic. Saute for 15-20 minutes, stirring frequently, until the onions are limp and there is almost no moisture remaining in the skillet. Be patient… if you think they are done? Give them 5 more minutes. Add 1/2 teaspoon of salt, 1/4 tsp of pepper, the wine and the thyme and continue to cook for another 10-12 minutes, until the onions are lightly browned. Remove from heat. This step can be done ahead of time – I did it in the morning and then had all of the ingredients to assemble the pastries before everyone arrived.
When you are ready to assemble, preheat the oven to 425 degrees. Sprinkle some grated parmesan on the dough and then divide the onion mixture amongst the 12 pastries. Crumble goat cheese on top of the onions and place a slice of tomato on top. Brush the tomato lightly with olive oil and sprinkle with basil, salt and pepper. Finally place a shard of parmesan on each.
Bake for 20-25 minutes, until the pastry is golden brown. You can serve hot or at room temperature and they are FABULOUS!!!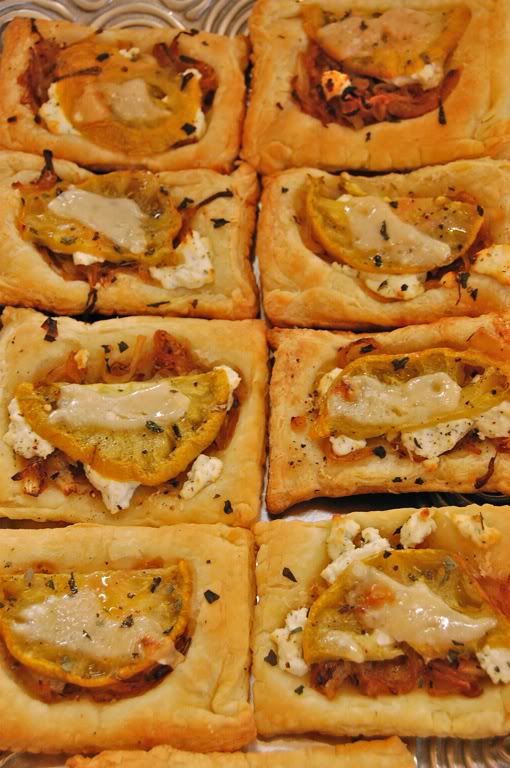 Thank you to Nicole Haldeman Photography for taking the pictures!!!