It sounds weird right? It's pronounced Go-zhere… Yeah, I know. The word gougeres doesn't really conjure up images of anything appealing…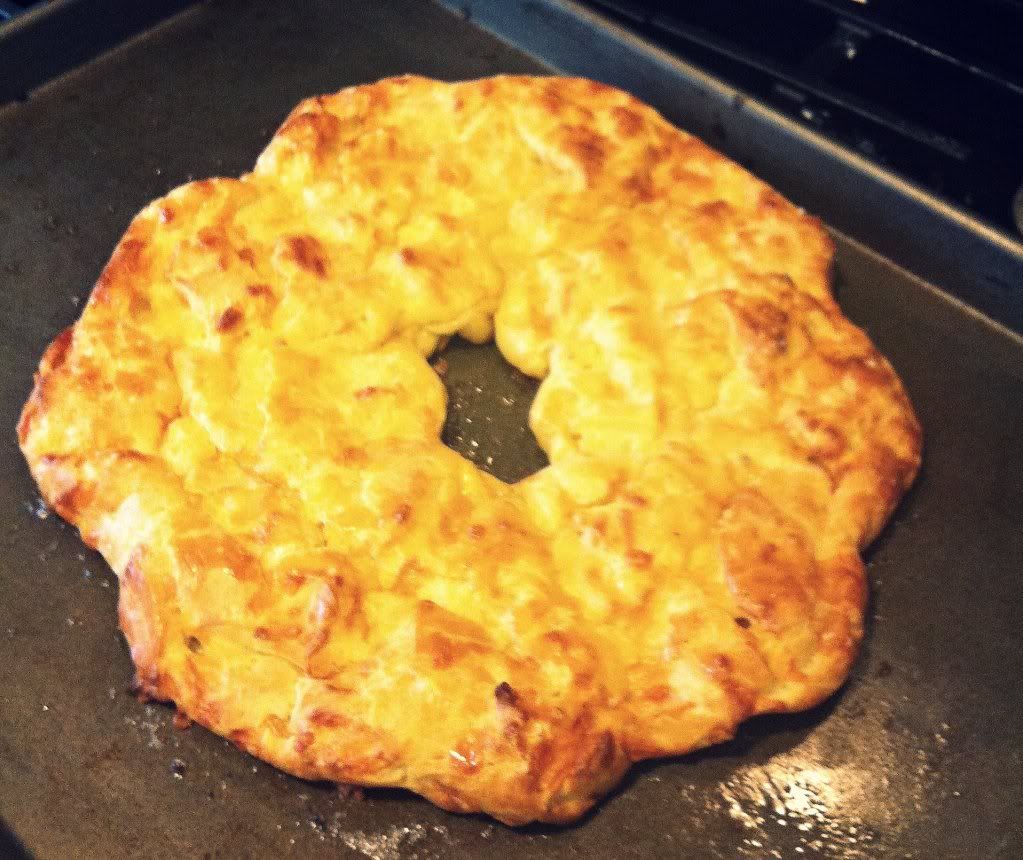 But really, it's DELICIOUS and something that my mom makes for every holiday gathering or party where she needs to bring a beautiful and impressive appetizer. It looks like you SLAVED over this. When really, you did not. At All.
While fancy, gougeres is pretty simple. Take the bread part of a cream puff, the pate a choux, and instead of making it sweet? Make it savory with Gruyere, or swiss cheese. It's amazingly delicious and the pastry comes out delicately cheesy, light and airy and so gorgeous in its festive holiday wreath shape.
So enjoy! And impress a TON of people at your holiday party with how fancy pants you are. You pastry chef you.
BonBon's Gougeres
Ingredients
1 Cup Water
6 TB Unsalted Butter (eh, I used salted… it didn't really matter)
1 Tsp salt
2 Tsp sugar
1 Cup of all purpose flour, sifted
4 Eggs, beaten
1 Cup of Gruyere Cheese – So I used a "fondue mix" of gruyere and swiss from Whole Foods. It's pretty expensive though, so swiss will do just fine…
1 Tsp Dijon Mustard
1/2 Tsp Dry Mustard Powder
1/8 Tsp Tabasco (I used Cholula, because I had it in the house. Use whatever you have on hand)
Freshly Ground Black Pepper (about 1/8 Tsp)
1 Beaten Egg, for brushing
Coarse Sea Salt (I like Fleur de Sel) for the tops (optional)
Directions
Preheat the oven to 400 degrees. Grease the baking sheet with cooking spray and make sure that your racks are on the lowest setting.
Combine the water, butter, salt and sugar in a saucepan and bring it to a boil. Make sure that the butter is melted, then remove from the heat and add the flour. Beat the sh** out of this until all of the flour is incorporated and the dough starts to pull away from the walls of the pan and form a ball. You may have to place it back on the heat momentarily to get it to do this. Keep beating until your dough is a glossy ball.
Place the ball into a clean bowl and stir to cool down a bit. I dumped the dough right into my Kitchen Aid Mixer, but use whatever you have on hand. Using your mixer, or beaters, add the eggs one at a time. Make sure to beat them well during the process as you don't want them cooking in the warm dough and turning into scrambled eggs. Ew.
If you add them correctly one at a time, the dough will be nice and glossy when you're finished. Add the mustards and spices and then slowly stir in the cheese. Don't overmix as you don't want your dough to get tough!!
Take two spoons and on your cookie sheet, spoon 8-9 canelles/"blobs" (wow that sounds appealing right?) of gougere mix in a circle. You will then have enough dough left in the bowl to repeat this procedure, making a second tier of gougere on top of the 8-9 "blobs" you have already formed. It will kind of look like a wreath. (See above) Or if not a wreath, at least a circle of cheese blobs.
Brush the tops of the gougeres with the beaten egg and sprinkle a few grains of sea salt over the top.
Now, pay attention.
Place the baking sheet in the oven for 15 minutes at 400 degrees.
After 15 minutes, WITHOUT OPENING THE OVEN DOOR, reduce the temperature of the oven to 350 degrees. Cook for another 15 minutes.
After the second 15 minutes has passed, reduce the oven temp to 325, WITHOUT OPENING THE OVEN!!
Look in the oven. Your gougeres will be starting to brown. YAY! Cook for an additional 10-15 minutes. You will know they are finished when you tap them and they sound hollow. (Of course that means that you can open the oven door at this point.)
Once they are finished, I like to slide the gougeres onto a platter and slice them into wedges. Taste one, then put the "wreath" back together with something festive in the middle.
Voila. You are now the fanciest person at the holiday party.
Happy Holidays!!!