A few years ago, a friend called me, to ask what I thought might be the stupidest question I'd ever heard.
"Do you know how to boil an egg?"
I laughed at her, thinking how I had admired her so much for being such a great, put together first-time mom and halfway decent cook… but really? You don't know how to boil an egg?
As I started to explain to her the concept of getting a pot, filling it with water, putting the eggs in the pot, my smugness started to wear off. Wait a minute. How long did you boil the water for? Do you put them in with the water cold or hot?
OMG, did I know how to boil an egg?
I realized that while I had the basic mechanics of how to do it, the subtle nuances that create a gorgeous creamy hard boiled egg were eluding me. In fact, I was boiling eggs and getting anywhere from perfectly done, to overdone, with that yucky gray ring around the yolk.
Science Lesson – That gray ring around the yolk is actually the iron in the egg yolk reacting with the hydrogen sulfide from the white… and only happens when you over cook it.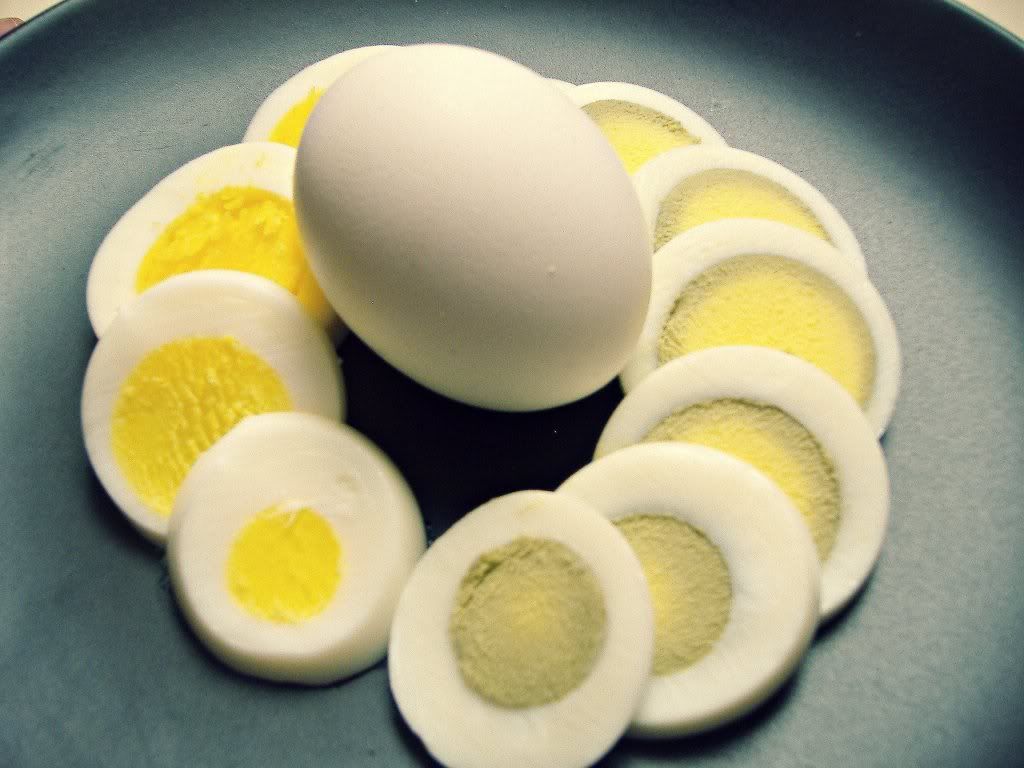 So with a gazillion eggs from our backyard chickens in hand, I set out to boil the perfect egg.
And I was pretty surprised at what I learned.
1) It is actually as easy as you think it should be. Provided you pay attention… I tend to suck at paying attention to things so I had some pretty gross attempts.
2) We have the luxury of using really really fresh eggs… like, right from the chicken. But those aren't really the eggs that you want. The fresher they are? The harder they are to peel once they are cooked. So if you want to get really easy to peel eggs? Use some that are a little bit older. This is probably not going to be a problem for the average consumer, since most of the eggs that you buy in the store have been there for a while. But, just in case you ever get chickens…
Now the directions –
1) Grab your eggs (I'm using large eggs), and a pot. Pretty easy start, right?
2) Put the eggs in the pot and cover them with cold water, only about an inch overhead.
3) Put them on the stove and turn it on medium high heat.
Now this is where you NEED to pay attention.
4) As SOON as that water starts to boil (and I mean boil, not just a few bubble here and there), turn the stove off and cover them.
5) Set the timer for 12 minutes.
6) When the timer goes off, remove the eggs from the pot and put them in cold water. (Sometimes I put them in an ice bath, but I haven't found that it really matters either way)
7) Let them sit for about 5-10 minutes and then dig in.
Of course, if you don't want them right away, just store them in the fridge, but try to use them within a few days as they go bad faster than uncooked eggs.
Now tell me that wasn't the SIMPLEST, most STUPID PROOF way to boil an egg?
Give it a try and let me know if it works for you!!
*****
Thanks for stopping by! If you're interested in more recipes and how-to's, stop by my Good Enough to Eat page! I tackle quick breads, cookies, casseroles and TONS of other amazing recipes… even How to Use a WHOLE Chicken (from whole bird to bare bones)!!
Or get It's Fitting in your inbox! Subscribe here!!