7 times now people have gathered to play a little golf, eat some food, and raise money for Neuroblastoma Research.
I have been lucky enough to go now 4 times. My experience has changed considerably now that I have a running, screaming, wild hooligan who wants to play on everything, but as usual, it was awesome.
I've posted about this golf tourney before, as some of you may know, here and here. It was the same chaos, the same amazing combination of friends, family and philanthropists… The one thing it was missing?
The heat.
Every year I've gone it's been HOT. Like, holy-hell-it's-Phoenix-in-April, HOT. But this year? Delightful. Unparalleled. Sublime. It was 80, with a slight breeze and of course, cloudless. That meant we needed to slather on the sunscreen, (but really, with our skin…when don't we?) but beyond that? Sigh. It was amazing.
Beyond weather perfection, it was also really fun to have the wild maniac there this year. He was amazed by the jumpies, the slides, and all of the kids. We had a few issues when he got pegged by a basketball that was like, 3 times larger than he was, but seriously, if you want to run with the big dogs? You're gonna get knocked down here and there. He was non-plussed and proceeded to spend the rest of the time clinging to Mama, making sure that I carried him up the gargantuan inflated slide (I earned that hamburger, people) and slid down with him. I'm not sure that I was supposed to be on the stuff, but it was FUN. I mean, when was the last time I got to slide down a giant inflatable or go into a bounce house?
Having kids can be a blast…
*****
The most important part however is the fundraiser. For those who don't know, Neuroblastoma is a solid tumor cancer that arises in immature nerve cells and strikes primarily infants and children. It is the most common cancer affecting infants with an incidence rate of almost double that of leukemia. It's cause is unknown. Nearly 70% of children diagnosed with Neuroblastoma have advanced stage disease. Less than 40% of those children live five years. (CNCFhope.org)


But as with with many diseases in the world, there isn't the funding for research. Since 2005 the CNCF, Children's Neuroblastoma Cancer Fund, has raised $1.5 million for programs and research. In comparison, the Leukemia and Lymphoma Society invested $72 million in 2010 alone for research on those diseases. (lls.org)
Hence the importance of events like the Fore Noah Golf Tournament. This event is the third largest fundraiser for Neuroblastoma and proves that grassroots fundraising works. As of 2010, this event has raised more than $375,000 towards Neuroblastoma programs and research. It is an astounding display of how family, friends and a community come together to support their own. Noah is doing so well now, that they have changed this event to the Fore Noah and Friends, proof that while he may be N.E.D (no evidence of disease), there are many many others who's families are in the midst of the struggle.
*****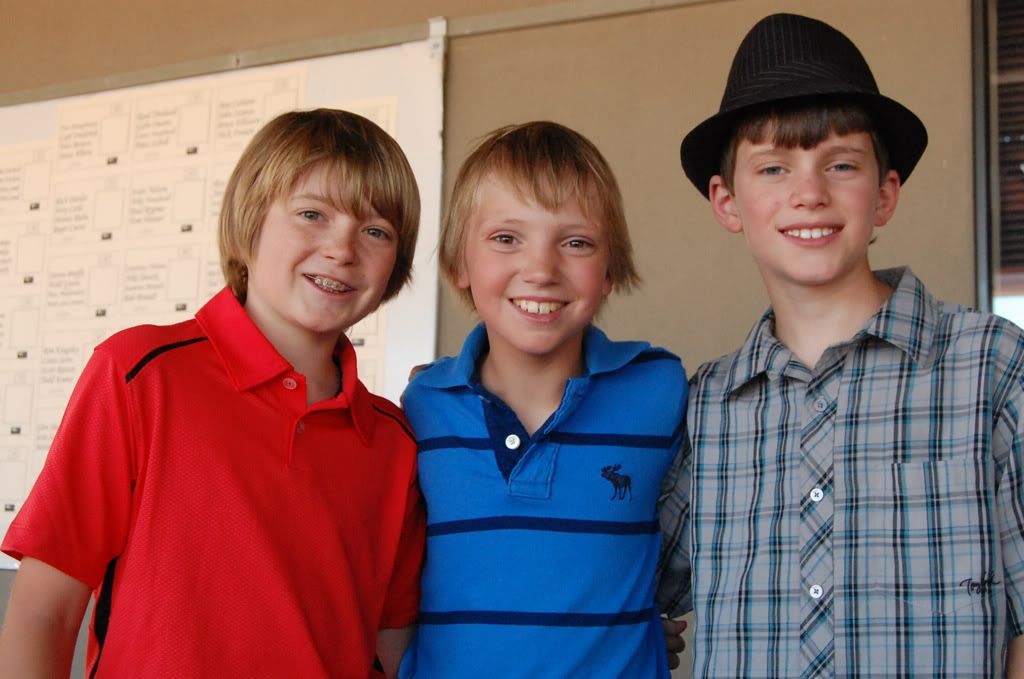 Noah (middle) with two of his buddies
If you would like to make a donation to the CNCF, click here. Remember, EVERY little bit helps!