So there's a new baby here at It's Fitting. A sweet little thing, that weighs less than my 30 pound monster, never talks back or whines and does everything I ask of it.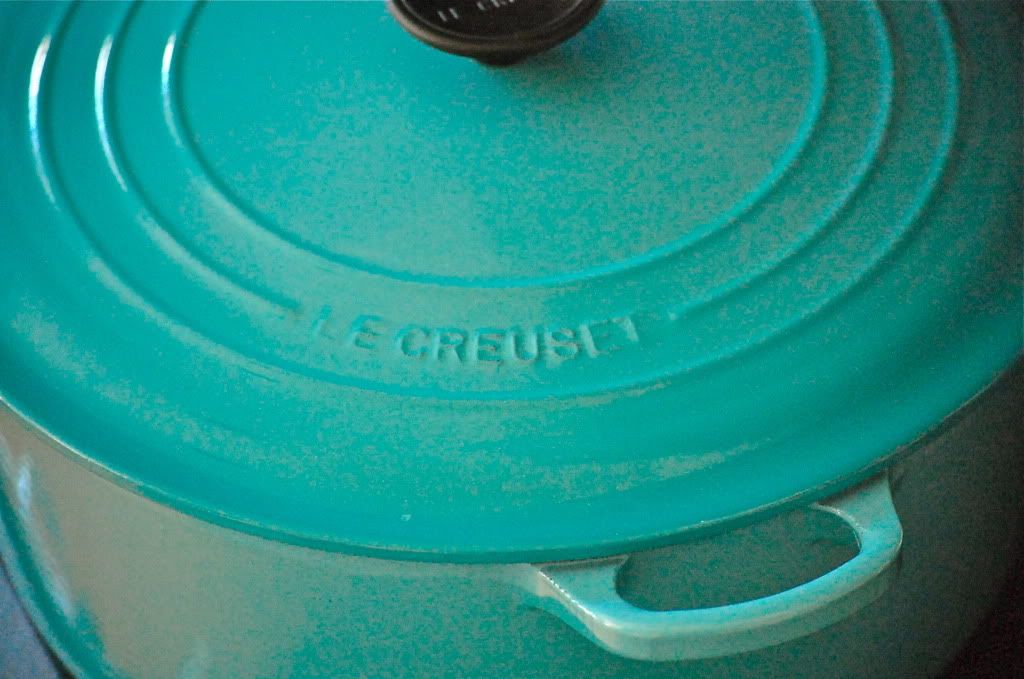 I got a HUUUUUGE 7.5 qt French Oven.
Sigh.
It's so pretty.
Now if you cook, you understand this. You know the beauty of cooking with Le Creuset. The incredible way that you can brown meat, then throw it in the oven, all in the same pot. The beautiful way that it cooks, evenly… and the amazing colors that these versatile babies come in.
I mean really, can you believe that I'm talking about a damn POT this way? Yeah, neither can my husband. He thinks I'm being a total dork and that me taking pictures of my new purchase was the most ludicrous thing he'd ever seen. I was even standing on a chair over the stove to take the one above… pathetic, I know.
But you guys KNOW how much I love to cook… and since I'm doing it so much more and getting so much more adventurous with what I'm making… it helps to have the tools. It also helps when there is a Le Creuset Outlet Store (!!!!) only an hour away. Yeah, like, I got this sucker for OVER half off. I really could have spent hours in that store, drooling over the options and the beautiful colors and what ELSE can I buy???
But I promised the hubby I'd only come home with one piece. One super special ENORMOUS piece. So if you would like to come on by for some braised meat or stew or a roast chicken or anything? More than welcome.
We can stare at the pot together.