I don't think there is any better conduit of flavor than a potato. It's such a benign vegetable on it's own, but when flavored and cooked correctly? Oh my goodness. Have you ever had really amazing mashed potatoes with sour cream and chives and butter? Yum. Or hash browns? That crust they get from cooking them at hig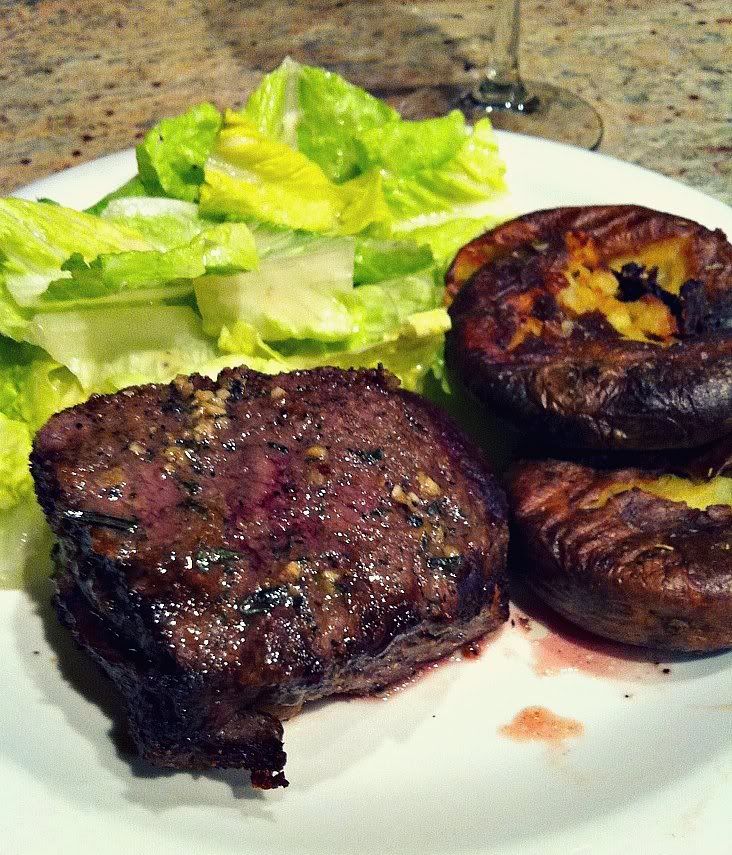 h heat and letting them brown? Goodness gracious sakes alive.
So the funny thing is, that when I first found this recipe in a magazine from Costco (mind boggling, right?) I was excited by how easy it sounded. One pan (a cookie sheet), no boiling, no peeling, and roasting… my absolute favorite way to cook things. After all, do you remember my roasted Apple Sauce? Oh MY. Roasting brings out the best in almost every food imaginable.
It was just so easy! And after the addition of some homemade garlic herb butter? Oh YES PLEASE. They were so fabulous that I served them as a side dish to my husband's super romantic Birthday Dinner that I made for him on our jaunt to the snow. Two gorgeous grass-fed filets of beef, a delicious Caesar salad, a beautiful bottle of Bartholomew Park's '09 Cabernet Sauvignon and… smashed potatoes. So it perhaps they don't sound like they fit in with all that elegance… but holy hell, it was fabulous.
Try it out with a super fancy dinner, or whatever your serving the family on a weeknight. The beauty of the dish is that you can make as much or as little as you'd like since they are just about the individual potato… and SO good. And don't be afraid to make the garlic herb butter… it's really easy stuff and delicious on bread, or steaks or potatoes… and it keeps forever.
Smashed Potatoes with Garlic Herb Butter
Ingredients
2 lbs small potatoes – Use Red or Yukon Golds as they are going to be the smallest and most tender.
6 TB Extra Virgin Olive Oil
Chopped Rosemary
Salt and Pepper
For Garlic Herb Butter
1 Stick of Butter
Minced Garlic (2-3 cloves)
Minced Rosemary
Minced Thyme
Small piece of wax paper
Directions
To start, soften the butter in the microwave (if not already at room temperature), but do not melt. Once soft, stir in garlic, rosemary and thyme, mixing well to incorporate through the butter. When thoroughly mixed, place in the middle of the piece of wax paper and roll the wax paper into a log. Twist the ends to keep the butter in and pop it in the freezer until it sets, removing it to the fridge for easily accessible "coins" of butter whenever you need them.
For the potatoes, wash and dry the Red or Yukon potatoes. Make sure that the potatoes are on the small side, around 2 inches in diameter. Any larger and they are going to take longer to cook. Adjust the oven racks to the top and bottom in your oven and preheat to 500 degrees. Arrange the potatoes on a baking sheet and pour 3/4 C of water into the pan. Cover tightly in foil and place on the bottom rack of the oven for 20-30 minutes, or until a knife slips easily in and out. Remove from the oven, take off the foil and let them cool for 10 minutes. If there is any water left in the pan, just blot it up with a towel.
Drizzle half of the olive oil onto the pan and roll the potatoes around to coat them in oil. Space them evenly on the sheet and place a second cookie sheet on top. Using the second baking sheet, squash the potatoes until they are about 1/3-1/2 inch thick. Don't despair if you don't have another cookie sheet, just use a fork and squash them… or a brick, or a heavy pan… whatever.
Once the potatoes are nice and flat, sprinkle with the rosemary, salt and pepper and drizzle with a little more olive oil, to brown them nicely on the sheet.
Roast the potatoes on the top rack for 15 minutes, keeping an eye on them, then transfer them to the bottom rack to cook for an additional 15-20 minutes. Remove them from the pan immediately or they will get hard. Once they are removed from the pan and plated, serve with a small dollop of the garlic herb butter on top… letting the flavors melt down into the deliciously browned potatoes.
Soft and creamy on the inside, crispy on the outside and deliciously full of garlic and herb flavor. These are a great addition to any fancy schmancy dinner.
Enjoy!!!
What's your favorite thing to serve for a fancy dinner?