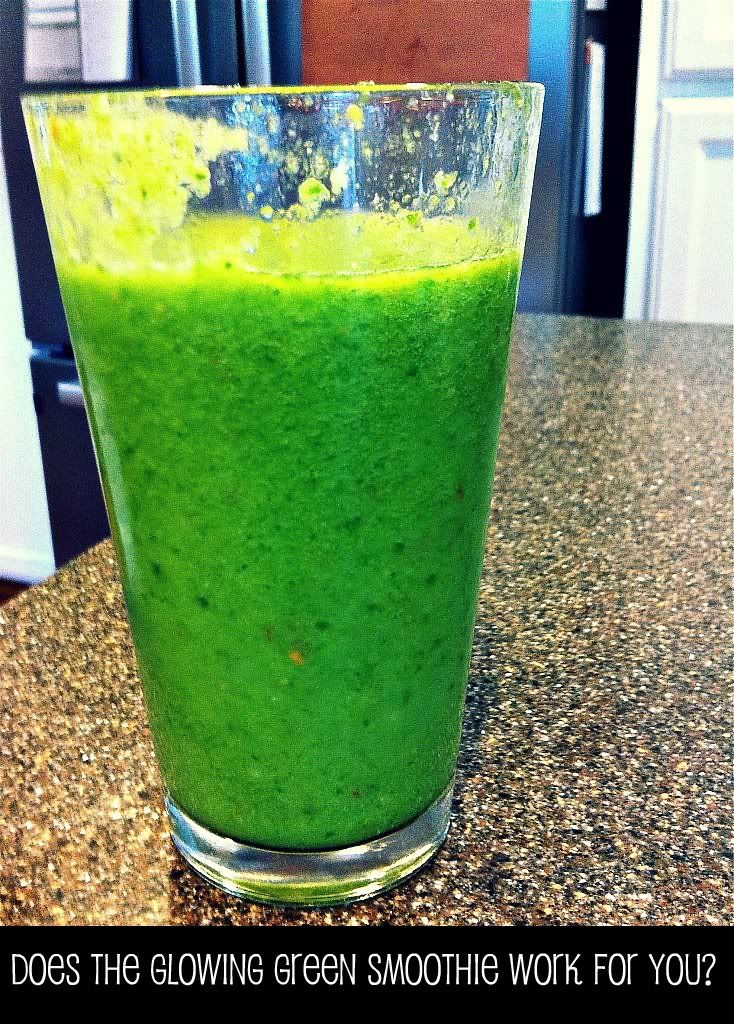 So after weeks of gluttony (think copious amounts of refined sugars and alcohol, ugh) I have been on my own self-imposed detox plan. I have replaced my coffee with hot water with lemon, taken out all dairy and refined sugars as well as overly refined carbs like pasta and bread. I'm eating a TON of fruits and veggies (like TONS) and just trying to clean out the system a little bit.
I'm also having a "Glowing Green Smoothie" every morning.
I had heard about the amazing benefits of drinking one of these every morning. Increased energy, staying full until lunch, and just overall better health and beauty. Hrm. After six days of drinking it, I'm surviving without coffee (amazingly, but I think that might be the hot water with lemon) but that's about it. I'm still exhausted around noon everyday, but not dragging all morning, which is nice. My skin actually looks terrible, but hey – that might be the detox working, since I look like a 15 year old boy with pizza face.
I know that on Kimberly Snyder's website she says that "For maximum health and beauty benefits, it is necessary to NOT only drink the Glowing Green Smoothie but also follow the whole Beauty Detox program. " Yes, I understand that, but I'm not going to go THAT hardcore and I'm certainly not going to buy a book to tell me how to eat better. I eat pretty well. (Just not lately unfortunately).
Kudos to Kimberly for getting people to try and eat more greens. Kudos to her for getting people to eat more organic fruits and veggies. Everyone should be eating these things in great quantities because a) they taste great and b) they are GREAT for you! I like the ideas behind the book and the "lifestyle" that she's promoting… I just think it might be a little hard to live up to. At least for me anyway. I LOVE butter. I LOVE meat. And I LOVE cheese. So I incorporate these into my diet, because I like everything in moderation. And after three days of only veggies? I'm ready for some meat and dairy… like SO ready.
This is my plan for healthy living that works for me, and that's ok! I may not be a hard core vegetarian or vegan, but I try to have LOTS of veggies in my diet. And it's been 6 days on the smoothie and I'm going to keep drinking it see what happens. I mean, consuming all those green nutrients can't be BAD, right?
What is YOUR experience with the Glowing Green Smoothie??