So guess who dragged their 8 months pregnant body to Vegas for Bloggy Boot Camp this weekend??? *raises hand*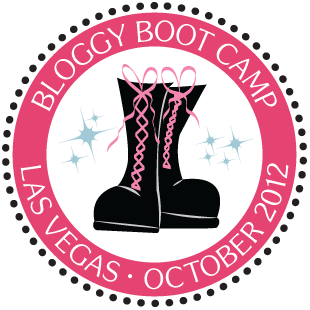 And guess who had a freakin' BLAST and stayed up till all hours of the night partying like a rockstar??? *raises hand*
And guess who is so exhausted that they can barely move, function or wipe her 3 year old's butt? *I can't raise my hand anymore, it's too exhausting.*
It was a blast. Really and truly a blast. And if you've never been to a BBC, I would HIGHLY recommend it. Mine had amazing sessions (Kludgy Mom AND Tip Junkie?? Yes Please), was small enough that I didn't feel overwhelmed and was over in a day. It's like, none of the commitment of a massive conference, close enough that I could fly there in less than 2 hours and if I hadn't been pregnant, I would not have felt like I was run over by a truck.
As it is… ugh.
So with all of these fabulous speakers and such an amazing experience, I guess the question is this… What did I actually learn at Bloggy Boot Camp this past weekend??
***** That I want to re do my blog, again. Well, maybe not re-do it, since I like the clean look that I have… but I DEFINITELY need to make some tweaks. I'd like to use more of that valuable footer real estate and eventually make some tweaks to my header. Overall I like what I have, but there's always room for improvements. And I HAVE to learn how to use my theme.
Of course, this is all going to go on the list, right after 1) sew a quilt, 2) finish the baby's room and 3) have a baby… so it might not happen anytime soon. But the GOAL is to have it finished by the time I go to my next conference.
***** Strike a balance. If I really want to do this and invest time and energy into it? I need to balance my family life and my blogging life. I have to put it away. I have to play with my children and focus on my husband and my house and my life outside of the internet. I can be a blogger and a mom and a wife… I just can't be %100 of them %100 of the time. Easier said than done… but I'll try.
***** I need to set work hours and BE MORE PRODUCTIVE in the time that I have. Check emails only twice a day and stop wasting so much damn time on Facebook (and Pinterest and Twitter). Set timers and reminders to do things! ENJOY blogging but don't let it be all-consuming… because everyone has to go home from their job. It's just harder to do when you do it from home.
***** Keep going to conferences… because every time I go and know people already, or meet someone that I only know from Twitter, it's TOTALLY AMAZING. It's my chance to make real life connections and friends with online acquaintances. And it's awesome and I LOVE LOVE LOVE these crazy people.
The last thing that I took away from it all?? That I want to be in blogging for a long time. After listening to Tiffany speak, I realized that regardless of if I keep writing forever, keep my personal blog running forever, or give it all up completely tomorrow, I want to keep working with bloggers. I want to keep surrounding myself with all of these KICK ASS women who are so passionate about what they write about and are looking to make their blogs and their lives better through writing. It's totally inspiring to get a group of these gals into a room and hear the different things that they are passionate about. Bloggers are here to stay people, and I want to work with them.
Now who wants to hire me??