Did you guys know that October was Bully Prevention Month? Yeah, I obviously missed the boat on that one. But my friend "Toulouse" over at Toulouse and Tonic has started a trend… Bully Shaming.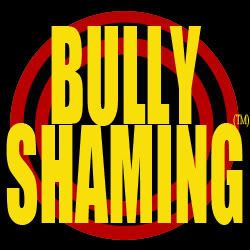 #bullyshaming
*****
I fell victim to the Mean Girls when I was in Junior High… And I fell hard. I was inexperienced in the ways of the cool crowd, having just moved from a 90 person private elementary school in California to a public junior high across the country in Northern Virginia. I had worn a uniform my whole life so had no clue what clothes were "in", what kids were talking about. I was an only child, so had spent a lot of time with adults, traveling with my parents, so didn't really know pop culture. I didn't know how to fit into the older, more mature crowd that had spent the past 6 years together and were already so experienced with boys, with sex, with the "scene". I was at a total loss.
And it showed.
I tried to fit into the cool crowd but it backfired. I ended up not only not fitting in, but being the target of some of them. Friends I had made my first year at Junior High were quickly lost as my popularity plummeted. Friends that I thought were friends talked about me behind my back and made my lunch a living hell with spitballs in my hair, taunts thrown my way, and no one to sit with. My "best friend" dumped me for the cool kids, ignoring my phone calls and refusing to talk to me in the halls. I spent most of my 8th grade year sitting in the library by myself, shell shocked by what had happened.
I went home at nights and cried about being so, so lonely. About not understanding what had happened. About why none of my old friends liked me anymore.
Kids can be cruel.
My saving grace through all of it? It was only a year. And at the end of that year I had the chance to escape. The chance to go to a different school than the rest of them, a math and science school where we were ALL a little bit different. Where to go there was to label ourselves "nerds" and that was kinda cool. Of course, some came into high school smart and popular while others just came in ridiculously smart. But there were no outcasts. Everyone was accepted. And bullying? Wasn't really tolerated. Everyone appreciated how cool it was to be there.
I adored that place and those friends.The friends that I talk to and connect more with than even my college friends. That I still see at reunions and weddings and events and it's like, 15 years later and 3000 miles away, not a damn thing has changed.
But thinking back to that one miserable, terrible, no good year makes my stomach turn. It makes me realize how damaging and how hurtful kids can be and how hard it must be to be a parent through it all. My mother seethed with anger at how powerless she was to stop my anguish and my tears.
I am terrified that I will have to live with it with my children. That people will want to hurt them, emotionally or physically, and that there really isn't a whole lot I can do except to teach them to be strong. To love themselves. That they are beautiful, handsome, smart, important, and most of all, worth being loved. That other people can say whatever they want, do whatever they want, but that they are amazing individuals and no one can bring them down. That if junior high or high school isn't going the way they want, or is painful or hard???
It seems like an eternity but it will end.
And it gets so, so much better.
 *****
 Have a #bullyshaming picture to share? Go to Toulouse and Tonic to join up and show the world that bullying will NOT be tolerated.