The husband posted this last year to mark the anniversary of his father's passing. 23 years to the day, yesterday. I thought that it would be nice to re-post it, especially in light of all the world's recent events.
Read, then go out and make some memories with your family.
*****
Today I have an extra special guest poster… My Husband. Today marks a very special anniversary for him and he asked if he could write a post for me about his life and how it's affected him. I am SO honored that he wanted to share this story and am so proud that he felt like it was something he could share here.
**********
I grew up in a wonderful middle class family living in Northern California.  My parents split up when I was 10, but I always felt loved and encouraged.  We lived with my Mom, but Dad was always a big part of our lives.  He never missed a dinner or a weekend together.  He was a great Dad.  I was a teenage kid trying to make sense of the world.  I wasn't perfect, and neither was he.  It has taken me this long to realize that.  I was really into sports and a social life, and to be honest my Dad and I didn't have that much in common.  But there were two things we had in common, a mutual love of the Ocean and the Mountains.  My Dad loved to ski, and loved to surf.  He surfed most days of his adult life, but our thing was skiing. My best memories with my Dad were skiing in Tahoe.  That was a time when we didn't have to think about life, worry about problems, or try and solve our problems.  We could just spend time together enjoying something we both loved.
Easter Break came late in 1990 when I was a Junior in High School.  We went up to Tahoe to ski, but Mother Nature had some other plans.  It was warm and the snow was not very good, so we spent as much time in the cabin as we did on the mountain.  My memories of that trip are of laughter and fun.  The last day I ever skied with my Father was April 16th, 1990.
*****************************
We took a trip up to Tahoe this winter with my old friends and their families.  Drew was 28 months old and full of life.   The Wife and I had talked about "maybe" trying to get him on some skis, but mutually agreed that if he didn't want to we would wait until next year.  We were cautiously optimistic.  Drew hates wearing any jackets or layers of clothing, and really doesn't like gloves or hats.  We put him into his ski clothes, and let's just say he was less than thrilled.  We went and rented him some little pint sized ski gear and hoped he would give it a shot.
When we tried to get our passes, he completely lost it.  We were about to turn around and just head home, but somehow we persevered.  It took some coaxing but eventually he put on his ski clothes and ski gear and faced the mountain.  With much trepidation we got on the magic carpet leading up the bunny hill. I have to be honest, I thought a disaster was waiting for us at the top.  I was mentally prepared to carry him down the hill and call it good.  I had no idea what was in store . . .
*********************************
We left Tahoe on April 17th 1990.  I was heading home to spend some time with friends and celebrate life.  I was 17.  Who knew that would be the last day of my childhood?  My Dad's Dad had just passed 2 weeks earlier, and we had all needed to get away.  It was really hard on my Dad, and a trip to Tahoe with his kids and his best friend's family was just the recipe.  It was a great trip that ended too soon.
On April 18th 1990 we tragically lost my Dad.  I can't describe how this affected me, even after 22 years.  One day I was skiing with my Dad, and a few days later I was giving the eulogy at his funeral.  That was the hardest thing I have ever had to do in my life.
***************************************************
February 8th, 2012.  Ashley, Drew and I rode the magic carpet up the bunny hill at Sierra at Tahoe.  Years ago my Dad and I had skied the same slopes.  We got to the top and our unhappy skier was starting to show signs that this might actually work.  We took a quick picture, and then I put Drew in between my legs and started down the hill.  I can't describe to you the feeling I had as we skied down the mountain together for the first time.
Pure Joy.
It had been 21 years, 9 months, and 22 days since I skied with my Father.  1,138 weeks, or 7,968 days, or 191,232 hours, or 688,435,200 seconds.  I think that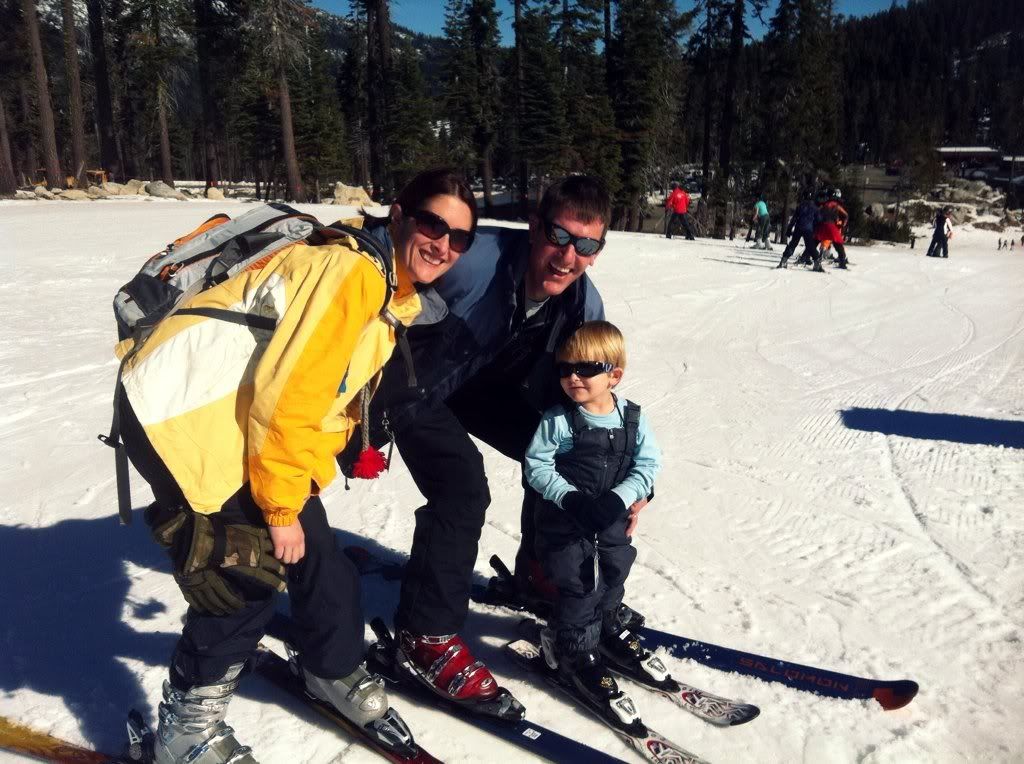 first run lasted about 1 minute.  60 seconds.  Some memories in life are a short intense burst of happiness that last for a few seconds, or a perpetual stoke that lasts for a much longer period of time.  Skiing with Ashley and Drew was the perfect blend.  It was the best 60 seconds of my life.
When we got to the bottom of the run, I had no idea if he loved it or hated it.  I was so happy and overwhelmed.  I didn't know what to do.  We had a family hug, and then Drew looked at me and said, "Daddy, I do it again?"  At that moment I knew we had a skier.  Ashley and I couldn't have been more proud.
22 years is a long time.  The bond between father and son is very unique.  To share one of those moments with my wife was icing on the cake.  I have experienced other moments in my life that have been amazing and fulfilling, but nothing compared to skiing as a family again.
I love my life and we are very happy.  The best moment in my life when I was 35 was my wedding.  The best moment in my life when I was 36 was Drew's birth.  At 39, I can say the best moment in my life was skiing with Drew and Ashley.  Sounds weird, I know, but it is so true.   We were making memories as our family.  Drew is still very young, but for the first time I felt like he would remember something about this day.
*********************************
What is my point in all of this?  Tough question.  First, I want to make sure everyone knows that you don't know what moments in your life will have a lasting impact.  I had no idea almost 22 years ago skiing with my Dad would be my last memory of him.  It was a fleeting moment in life that would normally have passed like a million others.  Second, it is the little things in life that kids remember.  20-30+ years later, I don't remember my first communion, graduating 8th grade, all the hallmark moments in life.  I do remember surfing in San Diego with my Dad.  I remember riding ski lifts with my Dad.  I couldn't tell you anything about Christmas 1989, but I do remember watching episodes of the original Star Trek on the couch curled up on his chest.   I remember the sparkle in his eye when he laughed.  I remember the way he put his left hand on his face with his left index finger extended while he drove.  It is the little things in life that kids remember.   Skiing with Drew and Ashley that day allowed me to stop worrying about forgetting my old memories and enjoy making new ones.
Sometimes we adults focus on the bigger events in life, but to little kids it is the little stuff that will have the lasting impressions. I try my best to live in the moment, and let my Wife and Son know how much I care and how good life really is.  I don't always succeed, but like I said earlier, I am not perfect.  Neither was my Dad.  I just hope some day Drew's memories with me are as good as my memories are with him.