Picture yourself poolside, or lounging on the beach. It's nice, right? But it could be better. What you need are some great books to make you laugh, and some seriously stylish summer accessories. Well, we have you covered.
First up, we're giving away six (count 'em, SIX) funny books that you probably already own because you have such great taste. But if, by chance, you've been busy reading the dictionary cover to cover or you tried to buy these and Amazon was all like, "Sorry, too slow, sucker. Sold out!" today's your lucky day!
At Least My Belly Hides My Cankles: Mostly-True Tales of an Impending Miracle is the debut novel of the amazing Paige Kellerman, of There's More Where That Came From. In it, she props her cankles up on the coffee table of your heart and tells the tale of her pregnancy with twins, from the reluctant announcement of the pregnancy test results to the experience of being hoisted awkwardly (is there any other way?) onto the delivery table. You'll be able to relate to every word, and Paige's unique storytelling style will keep you laughing, guaranteed.
Abby Still Has Issues is the second book by Abby Heugel of the award-winning blog, Abby Has Issues. It features a ton of laugh-out-loud essays that could only be plucked from that wonderfully neurotic head full of issues we all love so well. Laugh along as she admits to being smelly (it's not what you think), converses with her pants, and reveals why other countries hate us (hint: it's our eyelashes). Intrigued? YOU SHOULD BE. Because it's full of awesome.
I Just Want To Pee Alone, a hilarious collection of hilarious essays about motherhood by 37 hilarious mothers, covers every parenting topic from planning for your baby, to being driven insane by your children, to… wait, are there other parenting topics? Yes, don't be silly, of course there are. There's something for everyone in this #1 best selling humor anthology which, I don't mind saying, at one point ranked ahead of Tina Fey's Bossypants – a fact that many of the co-authors plan to have engraved on their tombstones.
Ketchup is a Vegetable: And Other Lies Moms Tell Themselves by Robin O'Bryant of Robin's Chicks is full of funny stories about motherhood, sex talks, the terror of car trips, and all those eye-roll inducing, forehead-vein popping, laugh-out-loud things that bond parents together under the flag of Oh Thank Heavens, It Isn't Just Me.
Also win a copy of Adrian Kulp's hilarious book Dad or Alive: Confessions of an Unexpected Stay-at-Home Dad, which is based on his popular blog DadorAlive.com. With chapters like "She's Gonna Have Daddy Issues" you know this book will be funny, relatable and just a little bit twisted (in the best possible way).
I can say, without fear of hyperbole, that you're entire summer will be a complete waste of time if you don't read these books – so in the event that you don't win this amazing prize package, check out the links and buy your own copies. You'll be glad you did.
Now, while you're enjoying these fabulous books, you want to look fabulous too, don't you? Never fear, we have that covered, too!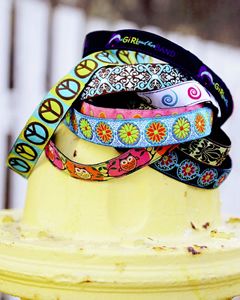 To keep the hair out of your face while you're reading (or while you're serving up a wicked ace on the beach volleyball court), you'll need headbands and hair ties from A Girl and Her Band. These suckers are nonslip, moisture wicking, antimicrobial and machine washable, not to mention cute as all getout. A Girl and Her Band is a company started by regular (but fantastic) mamas who support and empower active girls, and give back to the community
by donating a portion of all website sales to a different charity each month. They've generously offered up three headbands of your choosing, and they're throwing in a 5-pack of matching hair ties, too! Their company makes your heart feel as good as your hair will with this essential set of accessories.
As if that weren't enough to make you look like a million bucks while you're enjoying your summer reading, you'll also get a Vera Bradley Summer Pack, which includes a Vera Bradley sarong, a small mesh tote, and a beach towel in the gorgeous Go Wild pattern.
AND, just in case we missed anything, we're throwing in a $125.00 Amazon gift card so you can treat yourself to something special (I don't know if Amazon sells fruity drinks in coconuts with little umbrellas in bulk quantities, but I'd look into that if I were you).
ENOUGH ALREADY, you say! I'm interested, so how do I enter?!?
To qualify: You must be able to read, or know someone who is willing to read to you, and live in the United States.
Recommended: Tissues, for laughter-induced tear blotting. Large-rimmed Jackie O sunglasses for increased mysterious cool factor. A few seconds of free time here and there for reading.
Required: Do the little Rafflecopter thingy. Winner will be chosen at random and notified after the giveaway closes on Sunday, July 21. If there's no response from the winner within 24 hours, another winner will be chosen and so on until I decide just to keep everything for myself. (I'm kidding, of course. OR AM I? Yes, I'm kidding.)